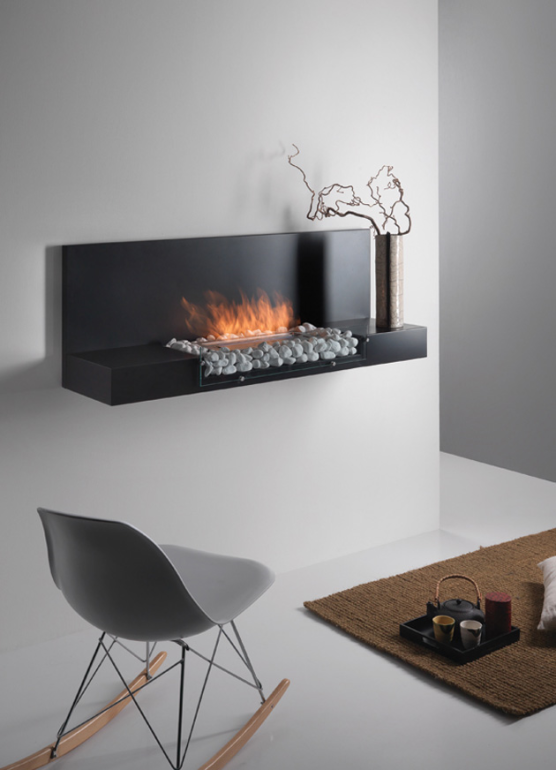 Zen bio fireplace by famous brand HorusBIO expresses balance i quiet. It is one of the ecological device, that fulfills double function in our interiors – warms them and give them unique, nontrivial character.
The fire as source of warmth and light, is often a symbolic companion of such terms as "enlightenment" or "wisdom". On the other hand, staring at red hot flame has calming characteristics. HorusBIO company has decided to join these associations and characteristics. As a result – the project of modern Zen bio fireplace arose.
Quiet and harmony
Stylish, ecological Zen bioethanol fireplace by HorusBIO is heated by biofuel. It looks modernly and elegant and is intended to be hung on the wall or be placed on the floor. The burner is located in one-sided glass panel. The flames are surrounded by "bed" of white stones, that look like those from zen garden…
Chromatic contrast between black housing of fireplace made of high quality steel and white stones, created unique effect, that makes for contemplation and relax. The impression was emphasised by a game of volume and contradiction between smooth surface of bio fireplace and streamlined shapes of stone blockes. Bioethanol fuel tank volume – 2 l, heat output – 3,5 kW/h.
Zen bio fireplace has additional space, that could be managed anywise. It could be the top of a table or place, where we put vase with flowers. The device fulfills double function: fireplace and shelf. It is distinguished by modern design, that together with calming characteristics of fire, creates unique atmosphere of balanced harmony inside.