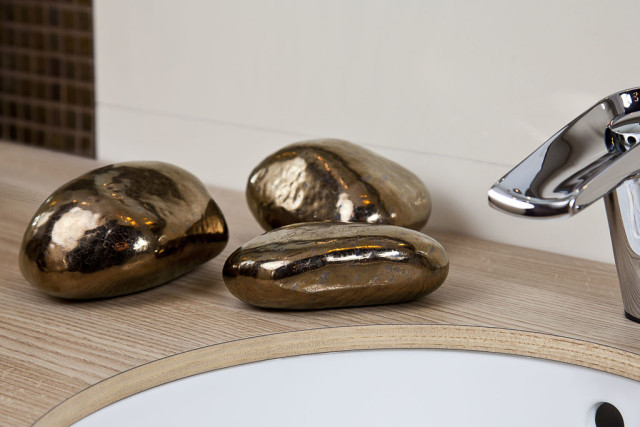 AkoStone Home & SPA Decoration series-inspired by nature by the project of Akii Juliushhi, is an expert combination of beauty of nature and artistic craftsmanship, presented in the form of ceramic stones.
Hand-made stone decorations are an original and unique decoration of the bathroom, SPA facilities, salon and shop windows. They achieve their unique luster due to an exclusive high-quality glaze. Thanks to them they are also resistant to high temperatures (1080° C) and work well with the ethanol fireplaces. Fiery flames reflecting off the surface of stones form an impressive and unique illumination.
Simple, pure form and the uniqueness of each of them gives an infinite number of decorative options. AkoStone Home & SPA Decoration stones may be arranged both in the home interiors as well as in the public spaces. Arranged on a tabletop, shelf, near a bath or wash basin they emphasize their nature, highlighting sophisticated beauty at the same time.
Universal colour of AkoStone ™ allows for creating various compositions with stones in the colours of rustic gold, yellow, black, white and additional shades of enriched palette.
AkoStone SPA Home & Decoration available in two sets: AkoStone™  7 Elements ( seven smaller stones) and AkoStone™  Big three   ( three big stones ) may be tailored to the needs and interior requirements. Their aesthetic values will be surely appreciated by the lovers of minimalist elegance and pure form.  AkoStone are beautifully packaged so they can be a very attractive gift for anyone.
Please visit the manufacturer's web page for more inspiration www.akostone.com