The sphere, as one of the most common shapes used by mankind, which is also very often used by designers of the bioethanol fireplaces. Harmonious form of a sphere in conjunction with irregular, changing shapes of the flames gives extraordinary visual effects. An example of this very interesting project is a Globe model by Vauni.
A globe spinning on its axis was an inspiration for the development of this bio fire. This classic and traditional shape of the sphere was varied through the opening with a very modern form, through which we can watch the flames dancing. The burner located inside is to bring to mind the fiery core of the Earth. The whole structure, just as the globe rotates 360 degrees on its axis.
The housing of the bioethanol fireplace is available in two colours: black and white. The inside of the bio ethanol fireplace can be in: matte black, glossy black and glossy white. We can select the variant with a height of 61 cm and 90 cm, placed on the leg. The overall design of the biofire will draw attention of the visitors, regardless of whether it is lit, or extinguished, when it looks like a very interesting sculpture.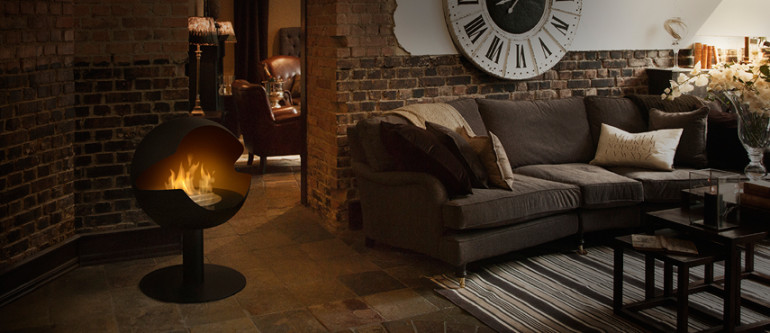 Technical data:
Dimensions of a low version: 600×610×580 mm (width x height x depth)
Dimensions of a high version (on a foot): 600×900×580 mm (width x height x depth)
Weight: 38 kg
Heat output: 2 kW
Fuel tank volume: 2l
Effective burning time: min. 5 h
Price for this bio ethanol fireplace is 2050 EURO.
photo& video: VAUNI