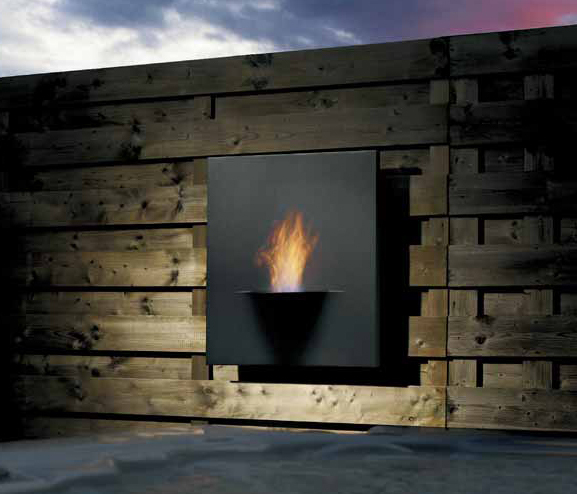 Roderick Vos, whose passion for designing has been brought from studies at the Design Academy in Eindhioven, designed a very unique ethanol fireplace for Safretti. Its simplicity is likely to impress even the most avid fans of minimalism.
The design is a simple, flat form of the image, whose only decorative element is a tiny flame flickering on a big black background. When the ethanol fireplace is extinguished, its main decorative feature is a contrast, bright red cap of the fuel tank opening, which is reminiscent of romantically parted lips and unforgettable details and decoration of Salvador Dali' works, having been drawn from hot Barcelona.
The ethanol fireplace is entirely made of black, lacquered iron and weighs about 12 kg. It may be wall mounted. It has the following dimensions: 73.5 cm high, 62.5 cm wide and 15 cm deep. A fuel tank with a volume of 2.3 liters allows for 8-10 hours of burning. A relatively small flame, whose heat is absorbed through a large, metal, black background, makes this ethanol fireplace, unlike many others, only a decorative element. It may not be used even as an additional heating element.
The cost of purchasing this model is oscillating around € 1500.
Photo SAFRETTI, www.gomodern.co.uk, www.trend-tecnologie.it