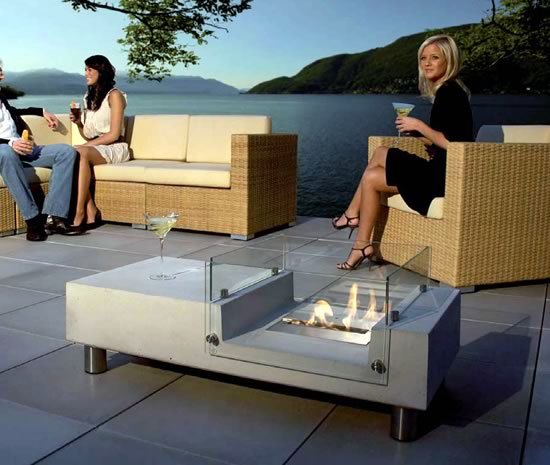 The mobile nature of the ethanol fireplaces gives us an infinite number of possible arrangements. Due to the fact that their operation does not require any stack, they are successfully used as an integral part of the furniture. Such duo looks very impressive. It is important that it satisfies both utilitarian and decorative functions.
With what types of furniture ethanol fireplaces match perfectly ? Ecological fireplaces built into the dining or coffee table tops are the most popular solutions used by the manufacturers. Furniture designed in such a way does not lose its usability and additionally gains a dazzling effect of flickering flames. While spending time with the closest family round the table or with friends over coffee, we can not only enjoy your favourite food or drink, but also a charming play of light and fire.
photo: SAFRETTI
Another interesting juxtaposition are ethanol fireplaces integrated with tables for home electronics. This piece of furniture in addition to the original functionality is compelling and original decoration of the room. Additionally, it matches perfectly with modern home theatre. Thanks to this combination inside of the living room becomes warm and gain a cosy character.
photo: OZZIO DESIGN
Ethanol fireplace furniture can be an inspirational in creating space in our homes. An interesting idea for the optical division of the room is the use of a minimalist bookcase with shelves and a built-in ethanol fireplace cassette. It's a good way to isolate the relaxation and rest zone from the daily area. This concept may prove to be useful in a situation where we do not want to or do not have the possibility to apply the separation wall. Openwork bookcase with geometrically arranged shelves and an ethanol fireplace, whose brilliance exudes in both parts of the room, is ideal for small areas. This custom and innovative division system does not overwhelm the interior and gives the illusion of an optical zoom. The combination of ecological fireplaces with furniture gives them a whole new dimension of design character.
photo: HORUS