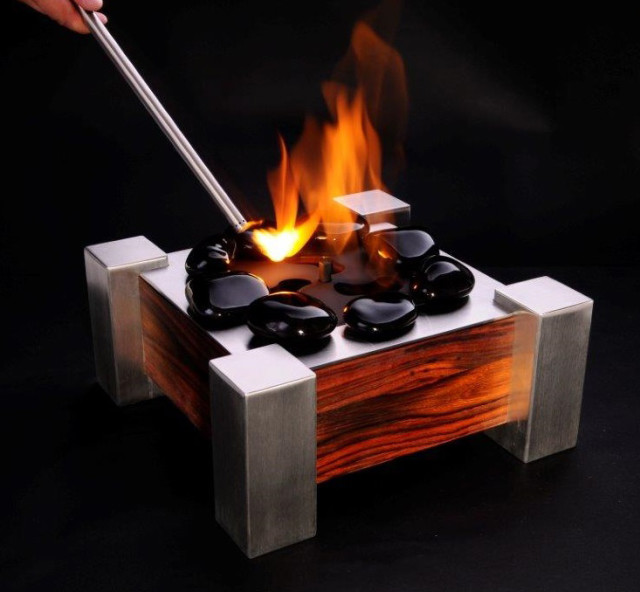 No need to use fuel materials and as a result – combustion without dust and smoke, which is the biggest advantage of the bio fireplaces. The devices supplied with bioethanol fuel guarantee pleasant warmth and light without trouble. Due to modern accessories, lighting of the bio fireplace is very quick and simple. How is it possible?

AkoLighter is an elegant lighter for bio fireplaces, designed by AKOWOOD. It is characterized by slender, subtle forms. The lighter is covered with stainless steel that it more elegant and classy. Minimalistic design and ergonomic form will make AkoLighter attract the attention of the amateurs of sophisticated interior accessories. However, apart from delightful aesthetics, the device is very functional.
photo: AKOWOOD
It is enough to move a little finger over the surface of the lighter and the fire arises. At safe distance, 36 cm from the hand, the fire is easily supplied to the chosen place. Even though, AkoLighter was created for lighting the bio fireplaces it can be also used for wood and traditional fireplaces. The source of fire is traditional gas for the lighters which makes feed it much easier. Single charging allows to use the device for long time.
AkoLighter belongs to AKOWOOD brand. The unrepeatable charm, pure form and utility of AKOWOOD products attract the followers all over the world. Inscription, engraved on the casing, confirms the uniqueness and high quality of the product. AkoLighter is sold in an elegant package, lined with protective foam and it has eco recommendation.
photo: AKOWOOD