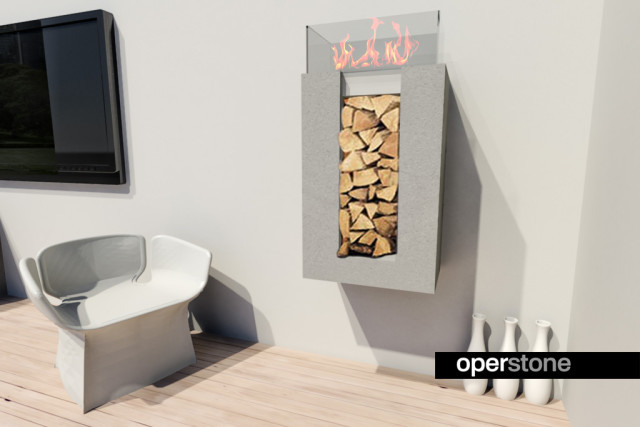 Live fire looks best in raw binding, it makes alive and complete the even form. Designers of OPERSTONE studio have reached the most common building material, emphasising its uniqueness. Specialists in aesthetic industrial forms lead the warmer face of concrete.

The secret of artificial stone
The concrete, regarded as the challenging decorative element, offers numberless arrangement possibilities. It matches perfectly in apartments and commercial interiors. In many cases it's the foundation of project, its base. The concrete suits industrial interiors, however for reaching the final effect, very important are colour and material, we arrange it with.  The rough texture and smooth surface is the contrastive, but very interesting combination, with astonishing potential. So it's not surprising, that the concrete has become inspirations and last direction for designers from OPERSTONE.
According to wish
The newest proposition of Cracovian experts in design is bioethanol fireplace OPER 01 i 02 – untrivial, even though it has simple form. Studio, aware of needs and preferences of clients, has created bio fireplace in standing an hanging versions, produced for individual order. The idea of both construction is the same – reduced to the absolute minimum.  Rectangular chunk hides real wood, and even though it's only decoration, the fireplace gain unrepeatable dimension. Traditional, even classical. This untypical burner with many-sided character, like the previous project of studio OPERSTONE – bio fireplace Bion, matches perfectly to lofts and places with big, glass area. Burner, protected by hardened glass, closes the fire and effectively keeps the warmth. Because of minimalistic form, this divice suits esthetics of every interior, tenderly shows off, adds the elegance.
The concrete, despite appearances, is very plastic material, susceptible to actions and repositions. It is used in architecture and industrial design, however only with fire it revives, becomes an element, which enrapture, and even warms up.
Bioethanol fireplace can be ordered in internet store flamino.pl and also directly from the manufacturer Operstione. The price of bio fireplace Oper 01 is 4500 PLN.