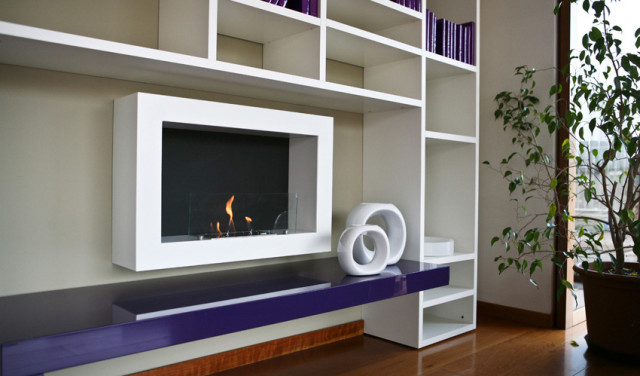 Simple design, unique quality, lightness and subtle power of fire. These are the qualities of Aida bio fireplace by Maison Fire, which is the alternative for traditional burners.
Bio fireplaces have revolutionised the market and our apartments. They allow to create our own space in an endless manner. Available in different shapes, sizes and styles, bio-fireplaces are ecological and functional replenishment of the source of warmth.
photo: MaisonFire
Combination of elegance and unique quality
Sophisticated Aida bio fireplace by Italian manufacture Maison Fire was carefully made of noble steel. Despite simple and pure shape, it fits perfectly in modern as well as classic interiors. At the front bio fireplace is limited by glass that protects against the spread of fire. It also gives some style, lightness and let enjoy the view of the twinkling flames.
photo: MaisonFire
Minimalistic shape of Aida bio fireplace is closed in a housing with standard panoramic proportions 16:9 and sizes: length 81 cm, height 54 cm and depth 20 cm. Model is available in white, inox and black. It also has a bioethanol burner and air quality control system. Bio fireplace can also be used for aromatherapy. Aida bio fireplace is a remedy for afflictions of body and soul. The device works effectively for 4 hours, using 1.5 L of bioethanol. We can put it on the floor, hang on the wall, depending on our individual preferences. Nice and pleasant atmosphere, created by bio fireplace, is appreciated in apartments, restaurants, cafeterias and hotels. The warmth of home fire is closed in a modern, subtle form – that's why Aida bio fireplace is so unique.