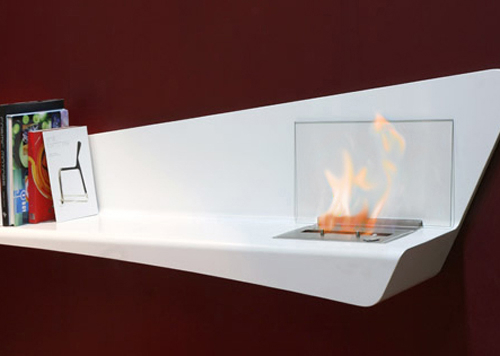 If expected reaction for the interior design should be a surprise, smile and admiration, the task might turn out to be difficult. "Everybody has already seen everything" –  you think, looking for really outstanding decorations. But is it for sure? For the amateurs of original solutions we present Helios bio fireplace – fire on a shelf.

Books, holiday souvenirs, photos, or porcelain are the most popular furniture decorations in the room or living room. Cosihome, French brand of bio fireplaces, decides to go one step further. Created by Frenchmen, Helios bio fireplace is the uncontested leader among the traditional accessories for interiors. Kept in pop-art style, long, enamel shelf, with fire burning on the edge, is the CosiHome's idea for adventurous and original home decoration.
Helios consists of a small bioethanol fuel tank placed in the hearth made of constant and elegant stainless steel. The whole thing is placed in a sophisticated, shiny top, which serves as a shelf to be hung on the wall. 8 mm fireproof glass is mounted from the inside as a protection against spreading fire.
Bio fireplace is controlled by a remote control. Thanks to this function, setting the fire and regulation of the flame height can be done from any place in the room. The device is totally safe and ecological. Used as source of fire, bioethanol guarantees conservation of purity during combustion, lack of smoke, soot or unpleasant smells. Helios bio fireplace is available in two colours: white and black.