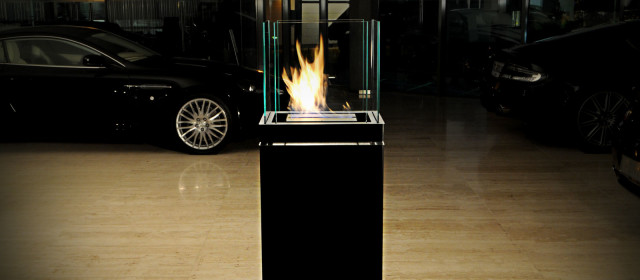 During cold and rainy months we gladly spend evenings at home. Perfect relaxation is ensured by hot tea, a blanket, a good book and a flame of the fireplace. Bio fireplace "High flame" by Radius Design was created for the amateurs of climatic evenings.

High and classic
Who does not dream about spending evenings in a cosy living room heated by the flame of a fireplace? Modern architecture very often does not allow to realise this dream. The solution is simple – bio fireplace, the device that does not need any chimney-ventilation system. "High flame" model by German brand Radius Design is the romanticism and warmth of fireplace shown in modern and elegance form. This high bio fireplace with simple, but unique shape matches to every interior.  In richly decorated rooms it will be harmonious and functional supplement, in minimalistic and rough – strong and expressive detail. It will perfectly fit not only to a living room or a bedroom, but also the office or elegance restaurant. Symmetrical shapes, make "High flame" model easily installed at the wall or as a free-standing model.
Higher and the highest flame
"High flame" was designed for Radius Design by Michael Rösing. For a designer it was important to create a model which would combine beauty and functionality. The mechanism, simple in use, loosely regulates the flame height. Double wall of combustion tank guarantees safety and protection against burnings. The housing of "High flame" was made of highest quality steel, which guarantees resistance and durability for years. Therefore, this model can be used both indoors and outdoors. Burning time of ethanol depends on the volume of a fuel tank. The model with a volume of 1.7 liters ensures 4 hours of continuingly burning time, the one with volume of 3 liters gives us about 7 hours. The device is available in two sizes: 147,5 cm x 50,2cm x 37,2cm and 151cm x  50,2cm x 37,2cm.