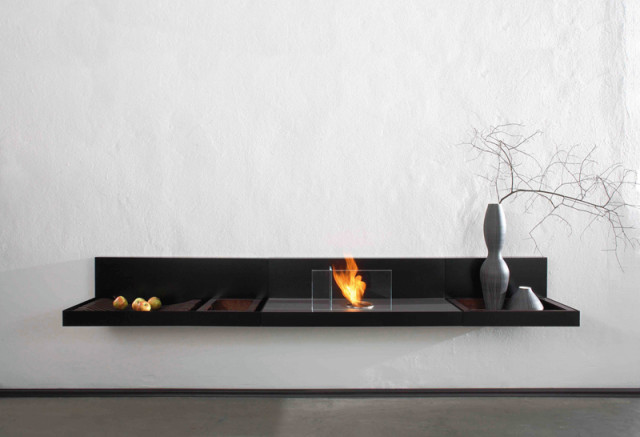 A Loungfire ethanol fireplace by Conmoto is a synergy of aesthetics, burner and functional furniture. Due to its very sophisticated shapes the ethanol fireplace will be a wonderful modern interior decoration.
Its long, simple and minimalist form is a wonderful setting for the burner located in the middle. It has a magnetic cover and can be hung under the structure while the fireplace is lit, without the need of moving it to another location.
The whole structure is made of high quality galvanized steel, powder-coated in the colour of semi-matt black satin. This harmonizes with the other polished stainless steel elements and with black laminate, the mysterious material forming the entire shelf. The burner itself with a specific circular look is of course made of stainless steel. Loungfire with its simplicity and functionality creates a new level of product aesthetic quality. A Designer of the ethanol, fireplace, Carsten Gollnick, has released two versions of this model differing in dimensions.
Technical data:
Dimensions of a bigger version: height 30 cm x length 100 cm x depth 40 cm
Dimensions of a bigger version: height 30 cm x length 60 cm x depth 40 cm
Visible edge: height 7 cm
Burner diameter: 16 cm
photo: CONMOTO