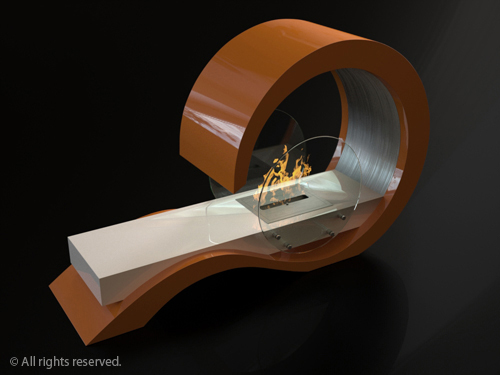 Aurora, in roman mythology is the goddes of the morning dawn. Most often she was pictured in a chariot drawn by two horses. She was the inspiration for creating one of the bio fires by Flammengo. 
The individual shape of this bio fire is the harmonic connection of interesting colours and mildly curved lines matched with the long, running chariot. Watching it give us a lot of incredible feelings of joy, freshness and energy.
The constuction itself is created to offer the maximal comfort of user. The flame is surrounded by two glass panes, which match perfectly with the inside part of the body. We can watch light and blinking flame through them.
Bio fire is made of enamel powder-coated stainless steel. The model is available in standard rich orange colour connected with white or just totally in white. The other colours can be customized.
The bio fire's dimensions: the length 1620 mm x the width 465 mm x height 980 mm.
photo: FLAMMENGO