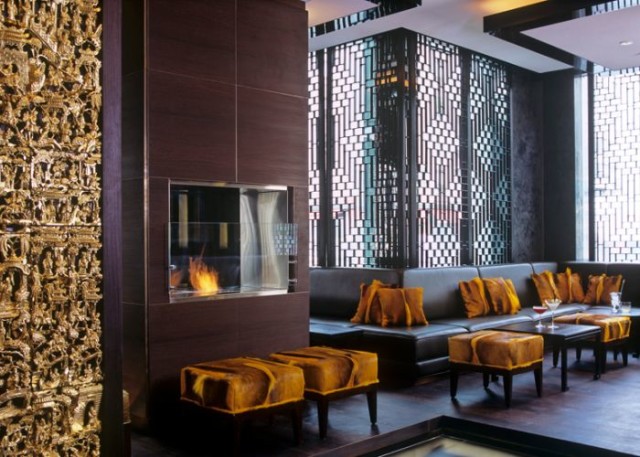 Many restorers and hoteliers would like to mount the fireplace in their places. However, it's not always possible. The excellent alternative are bio fireplaces that not only create unrepeatable, delightful atmosphere but they're also safe for the guests.

Bio fireplaces are solutions for those who appreciate modern design combined with the highest quality. The variety of available models, allows to mount the device in every interior. Wall-mounted bio fireplaces perfectly fit small restaurants and clubs. On the other hand, geometrical shapes of the burner could be the central point of a restaurant, some of them will perfectly match the elements of the development of the reception or bar. The style of the interior is as important as menu. Dancing flames can impress guests as well as sophisticated menu. The warmth coming out from the burner will hold them for longer time and turn them on to come back.
                                                                                photo: Ecosmartfire
Safety above all
Ecological fireplaces do not produce smoke, gas or carbon monoxide. Unlike the traditional ones, they do not need chimney-ventilation system. We don't need any special building permissions or commissioning. Thanks to use of high quality materials and modern technology, bio fireplaces are the guarantee of safety. It is very important, especially in places, where many people spend their time. Burners, designed with the best carefulness, are very stabile, they could be also additionally ballasted, to avoid being moved or turned over. The devices are equipped with the the self-putting out function, in situation of turning over, so the fire extinguishes by itself. Ecological, easy in use and mounting burners are characterized by longer combustion time, so perfectly fit to public places, such as restaurants, bars or clubs.
                                                                                         photo: Ecosmartfire