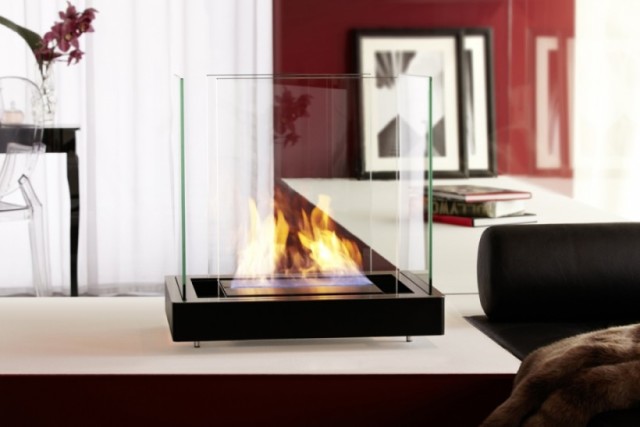 From now an aquarium has more than one use. It can join two extreme elements: more conventional: water with colourful fishes, and recently – also fire.
Radius Design brand has created the series of Top Flame bio fireplaces, that are characterized by unique design and due to this fact the room, where we are going to put this device, becomes unrepeatable, modern and nontrivial.
Optimal use
This ecological fireplace was made of high quality materials. The base with a burner on it, is made of powder coated stainless steel. The base and top part of bio fireplace are rectangular, so whole device is stable. If we put it higher, there is no risk it will fall down. The dimensions are as following: height 50.2 cm, length 49.5 cm, width 37.2 cm. Due to medium size, the bioethanol fireplace can be easily placed in a room. The top open part is made of glass, so we can admire live fire blinking inside. This bio fireplace is free standing, so we can decide which place it will decorate.
Eco-friendly
Bio fireplace is powered by eco-friendly bioethanol. Burner capacity – 1.7 L. It ensures economic burning. Once refilled tank gives us few hours of burning time.
Tasteful decoration
Apart from practical use, bio fireplaces by Radius Design is an unique, nontrivial decoration, fit in with every room. Softened and universal colours of base and transparent glass will be unique composition with every colour of wall and homeware.