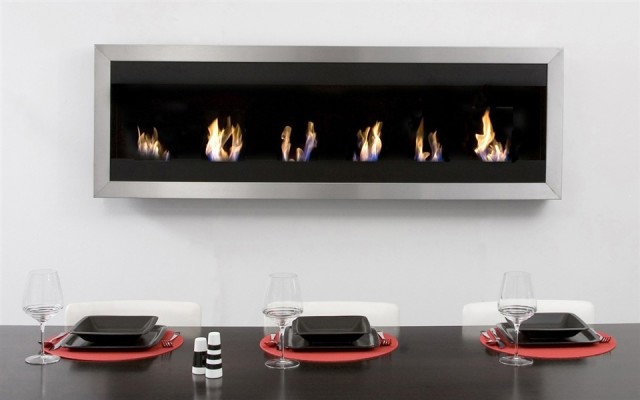 Elongated shape of an ethanol fireplace can be a fantastic solution for the central point of the house, at which we spend time together with your loved ones enjoying beautiful, iridescent fire in the panorama.
One of such panoramic ethanol fireplaces, at which we spend a nice time with your loved ones, is Square XL ethanol fireplace by Bio-blaze. Despite its simple shape this simple wall-mounted ethanol fireplace adds elegance and style to any residential or office room. It can even be mounted on the outside.
The structure of the ethanol fireplace is made of stainless steel and is mounted to the wall at four points. There are two versions of the ethanol fireplace. First version with six burners and fuel tanks with the volume of 6 x 0.35 liters, with the fuel consumption of 0.12 l/h, has a heat output of 3.9 kW. The second version, with three burners and fuel tanks with the volume of 3 x 0.75 liters, has a fuel consumption of 0.21 l and a heat output of up to 5.4 kW.
Technical data:
Dimensions: height 55 cm x length 170 cm x depth 15.8 cm.
Weight: 58 kg.
The model is available in any RAL colour, and its structure is certified by TÜV.
The price of this model is $ 2895.
photo: BIO BLAZE