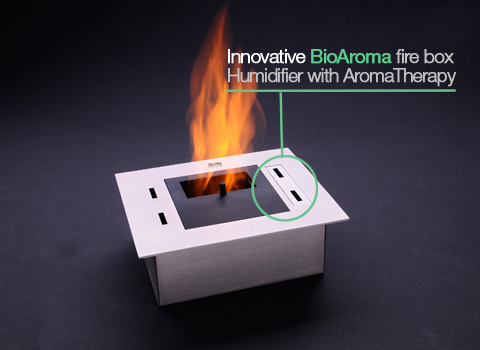 When looking for unique ideas to arrange the space, it's worth using fire as a decoration. Sparking flames are a live decoration, more attractive than usual ones. So how to use fire in an interesting and safe way? We present Akowood Fire Box burners – two objects and endless arrangement possibilities.

Eco-technology
Akowood Fire Box is an idea for amateurs of ecological and comfortable solutions. Burners powered by bioethanol do not need chimney-ventilation system, and during burning do not exhale harmful substances, smoke and soot. Additionally, due to innovative humidifier, mounted inside the device, it is possible to use essential oils and arrange an aromatherapy. Burners are comfortable in exploitation, using biofuel as fire source guarantees cleanness.
Universal using
Available in two sizes (9x22x27cm and 7x21x48cm), Akowood Fire Box matches perfectly inside the house and as a decoration in the garden. Placed in the flower pots, wooden boxes or among the plants they will revive and make the space more attractive. The burners made of high quality stainless steel are resistant to corrosion and unstable temperatures, so that it can be used in different weather conditions. It's enough to put the burner into a niche of the fireplace. In such a manner, the amateurs of traditional design can combine favourite patterns with comfort of modern technology.
Attractive accessories
To emphasise energy and spark of flames, it's worth using unique accessories – ceramic imitation of Akowood logs and stones. Objects are covered with special glass and therefore the fire reflects and creates unrepeatable, impressive illuminations of the interior.