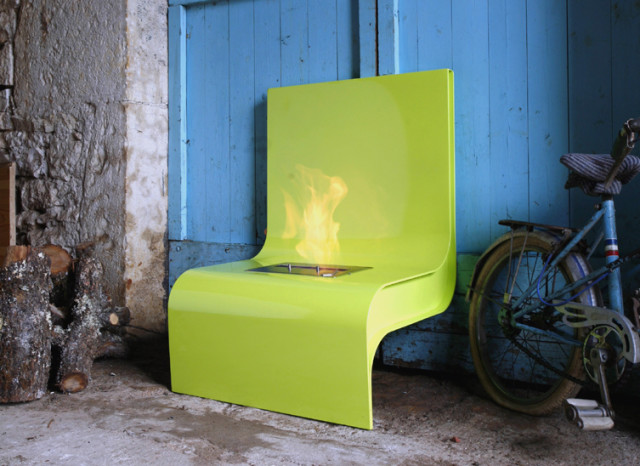 Beautiful, slender, gentle and streamlined shapes. That's how, in a few words, we can describe a Calypso bioethanol fire by Casihome. Its unique form leaves us a lot of space for interpretation when it comes to its appearance. Sometimes we see a wave and sometimes it's just a lightning, other time – inverted "S".
Flexible interpretation of shape of this specific wall mounted bioethanol fire makes it a perfect match not only for modern interiors, but also those arranged in pop-art style. The first ones are minimalistic in design and the colours. Calm and balanced colours and shapes are dominating. The most popular colours – white and steel grey, seem to be cold and raw. It's worth warming up such interior – literally by bioethanol and lyrically by colour impressions. However, if we don't want to destroy the whole consistent layout, one impressive item should be enough to highlight the interior. Calypso bioethanol fire will be a great solution for that – solid colour bioethanol fire, available in many colours, revives minimalistic spaces.
In bright interiors arranged in pop-art style, Calypso bioethanol fire will be a perfect additional element. Style full of colour effusion, surprising variety of techniques – and despite the fact, that it's no longer up-to-date, it still has lot of fans. What's interesting, shape of Calypso bioethanol fire harks back to S-shaped chair by Verner Panton, popular and characteristic for pop-art style. The colours of Calypso bioethanol fire are pure, expressive, bright and give funny and a little bit crazy look to the interiors. Flat housing round the burner is also a perfect space for decorating it with ceramic logs.
Direct Chemineé, the manufacturer of this device, made sure that model apart from aesthetic experience, also considers the safety issues. Material used for bioethanol fires is resistant to high temperatures, even 16000C.  Consequently, safety, technology and quality of Calypso gave a bioethanol fire a gold medal on International Invention Exhibition in Geneva in 2007.