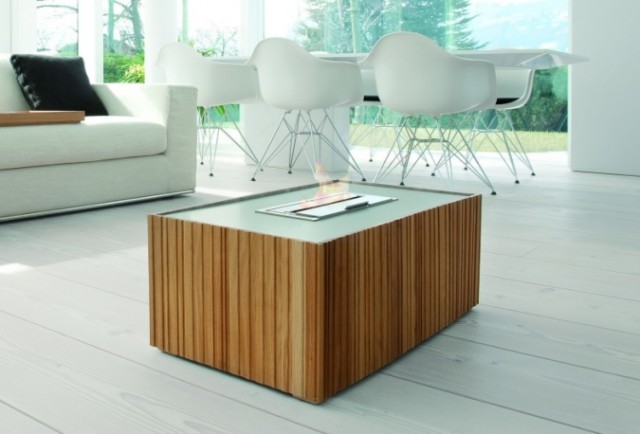 When deciding to have a bio fireplace at home, regardless of its design, we mainly bear in mind the functionality, comfort of use and the look. It should be pleasant source of warmth in a beautiful enclosure. More and more, we are looking for natural expressions.

Creativity and imagination are limitless, regardless of people who do not agree with that. Bio fire Axis by Caleido is undeniable proof of that. Specific construction of the device can serve as: a bio fireplace or a functional coffee table. Solid, wooden cover gives such an opportunity. Placed on the burner, it turns into a table top, where we can put a cup of coffee, a book, a newspaper etc. On the other hand, when we use the bio fireplace, the cover can be an elegant tray.
When Daniele Lo Scalzo Moscheri was creating the Axis model, he doubtlessly considered the supporters of uniqueness, modernity and also those who choose ecology in the elegant form. Axis, as every bio fireplace, is a perfect solution for everyone who cares about the environment – because it doesn't produce exhausts and smoke. Instead, the steam arising from bioethanol combustion, additionally moisturizes dry air.

The housing of a bio fireplace, made of high quality solid wood, will match natural and ecological atmospheres. Careful and accurate crafting make that sculpted housing of the device unique and beautiful decoration for comfortable space. The manufacturer describes this model as a "happy marriage" and it's hard to find a formulation, that will characterize Axis better.