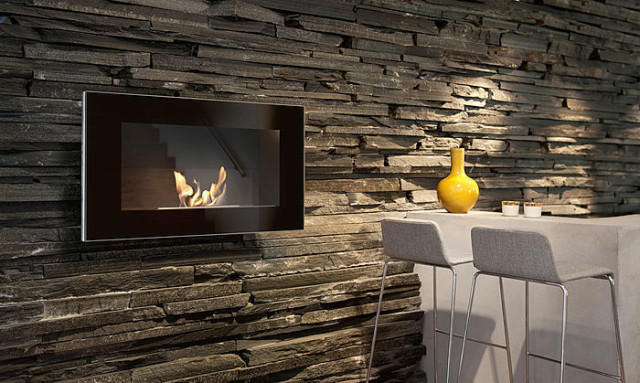 Bioethanol fireplace is often treated as a basic element of interior design, which draws all the attention. An example is a Vauni Shadow ethanol fireplace, which by its shape refers to a TV set.
The product is ready to be mounted on the wall using the mounting kit delivered with the ethanol fireplace. Its super flat form gives the impression that the bioethanol fireplace was built into the wall. Front-mounted glass is very practical, it gives a sense of safety and elegance. The designer made it possible to open it if necessary. The model can be mounted on any type of wall, even on the walls of plaster. Regardless of whether the bio fire is lit or not, Shadow is a beautiful decorative element. Delights with its simple, Scandinavian prestigious design.
Basic advantages of bioethanol fireplace include:
– a very flat shape;
– no need for incorporating it into the wall, –
mounting is as simple as mounting the TV set on the wall;
hidden front glass opening mechanism;
-slender burner preventing fuel spillage;
– mounting kit attached to the bioethanol fireplace.
The cost of purchasing this model is oscillating around € 1600.
Its dimensions are 95 x 55 x 17 [cm], weight approx. 30 kg, fuel tank volume of approx. 2l allows for 4 hours of effective burning.