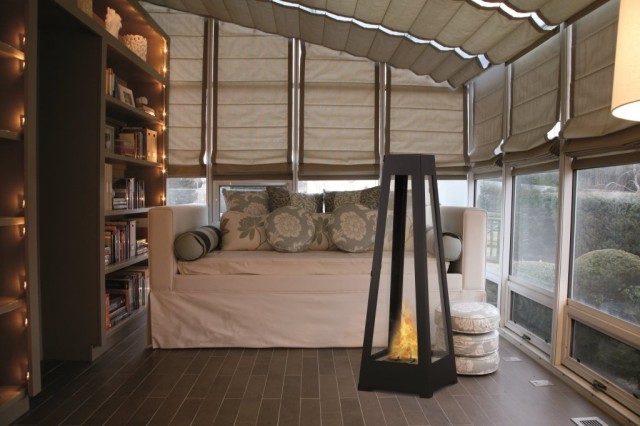 OLYMPIA bio fireplaces is a design solution for followers of contemporary arrangements and ecological heating and decorative solutions. The idea of a brand Bronpi expresses designer's geometric fascination.
OLYMPIA bioethanol fireplaces has characteristic, conical shape, that will be a perfect addition to modern, geometric interiors. It looks like slim street lamp, warm brightness of flames lights up a room and makes it more cosy, where we can calmly restafter long working day. It is a perfect decoration for living room, but also will match to patio, making long autumn evenings pass more pleasantly.
The burner is well displayed, it's located between four, glass wall. The whole housing is made of metal. The solid base ensures stability of bioethanol fireplace. It's shape will match both big, spacious living rooms and smaller rooms, where there is no space for traditional fireplace. Bioethanol fireplace is available in two colours: black and brown, that makes easier to match the device to interior of our apartment. It is completely mobile, because it does not need any chimney-ventillation system. It weighs about 27 kg, so we can replace it wherever we want. OLYMPIA bio fireplace is very functional and practical, perfect for those, who like simple, but at the same time unconventional decorative solutions.