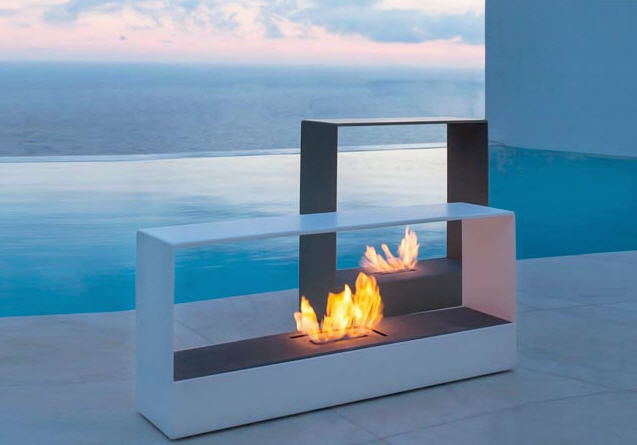 Garden, patio or spacious terrace is a small area inside the big city hustle and bustle, destined for the contact with nature and relaxation. Fire is the inseparable element creating the atmosphere of warmth and intimacy. How to save the simplicity and minimalism of modern apartment also outside? Elegant bio fireplaces with breathless patters are the way to charm the element in a noble design.

The tongues of fire coming out of marble blocks or stainless steel bowls reminding the torches are one of the forms taming the fire, used in ecological fireplaces destined for the gardens and terraces. Favouring the minimalistic trends they're the solution for people looking for the amazing addendums in cold and spacious arrangements. But it's not only about non-standard design.
The force in ecology
The magic of bio fireplaces is in the source of fire – bioethanol. Eco friendly substance causes that the burner does not need traditional chimney-ventilation system and it's an independent interior decoration. The fire could be moved, so the warmth can heat in every part of a garden: near the lounger next to the swimming pool or when gathering together at the table.
The elegancy and simplicity is characterized not only by external look of bio fireplaces, but also by the functionality. Getting the energy from bioethanol, these devices are practical in use and cleaning, eliminating the problems with traditional sources of fire. They do not produce unpleasant smells, which can disturb the evening meal and do not dirty with soot or ash.
Secret charmed in element
Designers surprised us not only with the aesthetics of performance, but also with sensitivity to the fundamental needs while spending time outside. No matter if bio fireplace reminds a glass torch or a coffee table, it can have a small locker for the useful items inside: a book, a warm blanket or a drink.
In that way bio fireplaces are not only the intriguing solution for people looking for soft, cold aesthetics for the outdoor, but they're also very useful, keeping things for the cold evenings or lazy afternoons.
                                                                                           Photo: EcoSmart Fire
Only the best brands
Unique collections of bio fireplaces by Gandia Blasco – the manufacturer of modern and stylish furniture created by the biggest design masters, for gardens, swimming pools or seaside beaches – are the best example.
                                                                                            Photo: Gandia Blasco