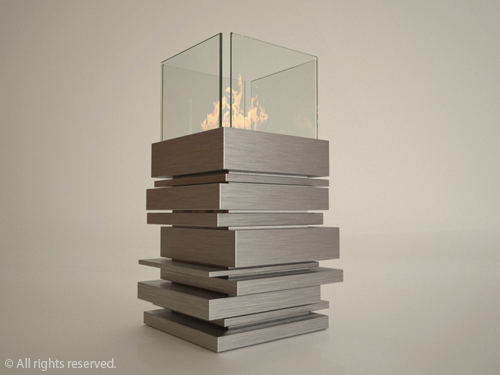 It's elegant, avant-garde but also very functional – Slices bio fireplace is more than just the source of warmth. It's a piece of art for everyday use.
Bio fireplace has modern, geometric shape. Its name is connected with steel discs put randomly and irregularly one on top of another, creating solid but untrivial base of the device. Because of sharp edges it looks stern and dignified, simple shape perfectly harmonizes with every type of interior. Bio fireplace is made of top quality materials, the manufacturer – Flammengo – guarantees reliability and safety during use.
The burner, surrounded by the tempered glass, uniquely mirrors the flame reflections, simple shape of a base consisting of steel slices, perfectly fits the space of hotels, galleries etc. Combining the elements, seemingly contrasting each other the bio fireplace fills up the room with warm, cosy and intimate atmosphere.
As with others bio fireplaces, the device does not need any chimney-ventilation system, the source of fire is bioethanol – heating liquid obtained in the distillation process of vegetable resources.
Slices Bio fireplace with its elegance and simplicity would please even the most demanding connoisseurs of beauty.